Your Missing Link – Your All-In-One Translator, Copywriter, Proofreader, and Consultant
Free Up Time for Stuff You Make Money On! Use Your Missing Link for Translations, Proofreading, Copywriting, and Process Optimisation
"Apples, pears, bananas – and skateboards! You can't possibly sell all that!"
A clever lady once said that to me.
Well, I admit it may sound a bit strange that you can order translations, proofreading, copywriting of sales copy – and optimisation of your administrative processes from a one-stop shop vendor.
Even so, this is exactly the business concept of Your Missing Link. And the very reason why my brand name is – Your Missing Link.
With me you get the link that makes everything fit together in your business. So that you may free up time to make money and grow your bottom line.
Wonder how? Scroll down and read more, or call me now on +45 30 63 84 89.
Contact me on
+45 30 63 84 89
Expect an early reply when you contact Your Missing Link. Usually I can take on even comprehensive assignments at short notice.
Do you lose money on bad contracts and ineffective workflows?
Getting the full picture can be difficult. And this is why many firms are wasting their money on expensive agreements and inefficient work routines. Optimise your processes and gain substantial savings on contracts. This way you will only be paying for services you actually need. And you will weed out needless work routines and obtain a better workflow.
Do you need a translation between English, Swedish, Danish?
Are you looking for a translator with long experience in technical language? Get your text translated between English and Danish, or from Swedish to Danish or English. Order translation of advanced technical or legal documents as well as everyday language from Your Missing Link. Translation to and from other languages is carried out by my business partners.
Are you looking for a fast, efficient, and reliable proofreader?
Who will optimise your texts and who can work odd hours if need be? Ask me to adjust your existing copy to make your message clear and to the point, free from misspellings and common language errors (such as lose/loose, their/there/they're, two/to/too, etc.). If you need "slightly more than a proofreader", e.g. to add a promotional twist, I can help with this, too.
Your Missing Link is your guarantee for quality solutions
Your Missing Link is no rookie. All the services in my range I have helped numerous clients with over the years.
You are guaranteed a committed and enterprising external resource with many years experience when you choose to let Your Missing Link help out.
But experience is not all. This is why I constantly keep myself updated on the very latest, e.g. in relation to SEO sales copy.
Knowing this you can feel confident and in good hands just like many other clients who appreciate collaborating with Your Missing Link.
Take a look at how my happy clients feel they were helped in the section "The customers have the floor …" further down on this page.
Or call me now on +45 30 63 84 89 if you wish to discuss a specific topic now.
So … how may YOU in particular benefit from Your Missing Link's long experience?
Below are a few examples.
Have you ever tried this:
Perhaps some of your administrative procedures could also do with a little TLC? Maybe you:
Now you can get all these services from a one-stop shop – Your Missing Link
In short – Your Missing Link is here to assist you with high-quality solutions to your needs.
Send an e-mail to info@yml.dk, or give me a call on +45 30 63 84 89 to know more.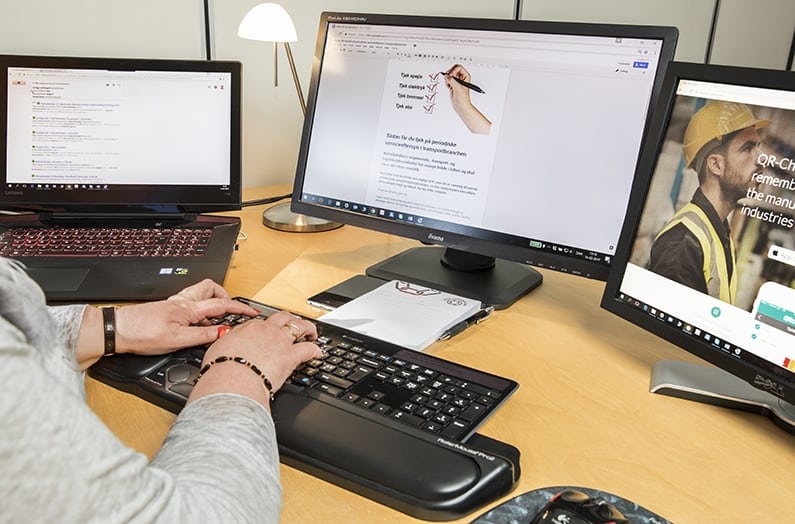 Get a free sample of Your Missing Link's work
Has your company not yet tried Your Missing Link?
Right now you can get a free sample of my work.
Click here for more info about a free sample of:
Don't forget to check out what other people say about cooperating with Your Missing Link – in the section "The clients have the floor …" right below.
The customers have the floor …
Confidence and flexibility made the difference
An advanced contract language with legal and technical English constituted a major challenge for our busy project organisation. For this reason Strukton Rail decided to have an English contract translated into Danish to ensure that all involved employees would fully understand the terms of the contract.
Strukton Rail got quotations from two translators. At the end of the day we did not base our decision on the price (however, YML v/Henny Jensen did present the best proposal), but on the process and work schedule that Henny presented. She made a detailed plan which she followed through.
This being the first time Strukton Rail has decided to have an English contract translated it was important for us that we could discuss the assignment with YML v/Henny Jensen in confidence, and we had a firm conviction that Henny would carry out the task in a professional manner. From day one we had an ongoing dialogue about the status. Strukton Rail was pressed for time and Henny went out of her way to meet our expectations.
We warmly recommend YML v/Henny Jensen and will most certainly make use of her expertise on any future occasions.
Super professional proofreading
I warmly recommend Henny Jensen for your proofreading assignments.
Henny has proofread several of my newsletters and a press release.
She submits her corrections quickly, spots some important details and communicates her proposed corrections clearly which facilitates implementation in my newsletter system.
Despite the fact that I am a journalist by education I always use a proofreader for my newsletters.
In this way I make sure not to overlook a mistake and I can concentrate on writing reader-friendly content.
Henny updated our T&C
Every now and then Atlas Copco assigns Henny to help out on an ad hoc basis whenever we lack the capacity or a specific competency in-house.
Henny drew up a new set of General Conditions for Sale and Delivery to match our current situation and legal requirements. She carried out the assignment in close collaboration with Confederation of Danish Industry and key personnel of Atlas Copco to ensure that the terms and conditions would reflect our business of today.
Henny also created standard quotation templates in Danish and English to make sure all relevant legal details will be included when we make quotations.
Use Your Missing Link as your one-stop shop vendor – and improve your bottom line
Avoid the hassle of having to coordinate multiple suppliers.
The benefits are obvious:
You concentrate your assignments with one vendor
You get personal service, no third parties involved
You get great consistency in performance of tasks
You pay per job, no fixed monthly salary
You pay no sick pay or holiday pay
You avoid the hassle of administration.
Other advantages
Use Your Missing Link as required – scale our collaboration
Free up valuable resources – focus on your core business
Get an innovative business partner – who understands you.
We were reimbursed approx. EUR 54,000
On going through and comparing invoices to contracts Henny identified an overpayment of approx. EUR 54,000 (equivalent to approx. DKK 400,000) for telephone and internet subscriptions over a three-year period. Subscriptions that were supposed to be free of charge according to contract had been created incorrectly in the ERP system of the service provider.
Moreover, the provider had systematically charged us for internet subscriptions which were never physically established at the home addresses of our employees. The service provider admitted to the mistakes and returned the money.
In addition to this task, Henny has helped us negotiate better terms of payment with our suppliers. Besides a significant drop in default interest and reminder fees the extended payment terms have helped improve our reputation among our suppliers which is fully in line with Atlas Copco policy to establish and maintain good relations with all our partners in business.
We also assigned Henny to analyse various processes relating to our vendor management within the organisation, and in close collaboration with our Shared Service Center and key staff Henny introduced optimised routines in terms of invoice coding and approval workflows.
For Accounts Receivables Henny has assisted in creating new forms layouts and introducing updated workflows which are beneficial for our clients as well as for our employees.
Delivers beyond our expectations
Henny Jensen delivers quickly and communicates clearly. Her quality of work often exceeds our expectations.
Hennys has a strong track record with Atlas Copco. Her services have helped our organisation quickly ensure a high quality and provide accurate translations and validations.
A vast amount of technical literature needs to be created and translated in connection with Atlas Copco's regionalisation within Scandinavia. The fact that Atlas Copco clients have high technical skills makes heavy demands on the quality and contents of product and application literature.
Atlas Copco will continue to work with YML v/Henny Jensen as the cooperation is smooth and the level of quality is high.